"Dear Mr. Fashion,
I keep trying to iron my wrinkled neck ties, but it seems to make them worse. They get more stains, lines, and creases from the back seam and heat of the iron, no matter how low the setting. Is it possible to iron a neck tie?
Yours Truly,
John Martinez"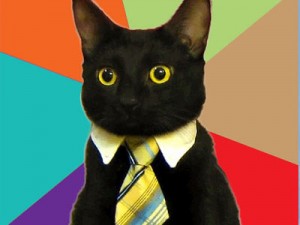 Loyal Reader,
There definitely are a few ways to effectively iron your tie without getting those ugly iron marks, creases, or stains. I'll let you know the best way first, and then tell you how to remove those shiny iron marks that you may have already gotten.
What you'll need:
Iron
Ironing board
Cotton cloth, terry cloth, or another clean piece of fabric that you don't mind ironing
Spray bottle
Electricity
Your tie (any fabric type)
How to Iron your Neck Tie
Regulate the heat setting of your tie before plugging it in. Cotton ties can take a medium to high setting, wool can take medium, and polyester or anything else needs a low setting.
Plug your iron in, and wait about 5 minutes until it heats up.
Put your tie on the ironing board flat, face down (seam side up). Make sure there are no folds that can turn into creases from the iron.
Drape the cotton cloth over your tie.
Gently rub out all the wrinkles from the cloth (and the tie underneath).
Iron directly on the cloth so that the tie gets the pressure from the iron, a little heat, and is protected from the bulk of the heat and metal.
Do this to the entire tie, moving the cloth if necessary so that it completely covers where you will iron.
Periodically check that you are not making more creases in the tie.
Flip the tie over and repeat.
Hang the tie immediately after ironing it so that it can cool without wrinkling again.
Turn the iron off and jump for joy.
Comment on this post and tell me about your Win.
Before you try it, a couple notes of caution:
Make sure the tie is dry as a whistle (a dry whistle, not a wet whistle). Don't start by spot cleaning or getting the tie wet, or those spots can turn into permanent stains when ironed.
When ironing, don't leave the iron in any one spot for longer than 2 seconds.  If there is a deep crease and that spot needs extra care, slide the iron back and forth over that spot rather than keeping it there.
Don't iron on top of a mountain.
How to Get Rid of Those Shiny Iron Marks
Think your tie is ruined because of those shiny iron marks? Think again!
You're probably coming to this post because you've already ruined a tie or two. Although those shiny marks are actually melted fabric, there really are ways to take off the scorched crust! Here are some tips:
Soak a cotton cloth in white distilled vinegar. Rub the cloth over the shiny part of the fabric. This dissolves the crust of the stain. Rub and scrub. This could take up to 5 minutes.
Rinse your tie gently in warm water (no soap). This is just to take out the vinegar.
That usually works. But if it doesn't continue:
Pour 1 tablespoon of hydrogen peroxide, and two drops of ammonia, into a small bowl and stir.Pour it onto the shiny stain.
Let it soak for an hour. If it becomes dry before the hour is up, add more of the mixture onto the tie.
Gently rinse the ammonia/hydrogen peroxide mixture off with warm water.
Hang your tie and let it air dry completely (especially if you plan on ironing it using the above steps).
If the shiny stain is still there, there is nothing left you can do but cry.